News
Win a night in Swains Lockhouse
August 2019
Here is your chance to win a free night in Swains Lockhouse as part of the Canal Quarters program.
Because of the Association's support for the recent rehabilitation of Swains Lock, the Canal Trust has given the Association a gift certificate for one night's stay at the lockhouse.
We will hold a raffle drawing for the one-night-stay certificate at the October 26 Heritage Hike dinner. You can buy your ticket at the dinner or online. You need not be present to win.
The certificate is good until July 31, 2020. You can make your reservation through the Canal Trust's Canal Quarters program.
Swains Lockhouse (#21) is the newest one to join the Canal Quarters program. This lockhouse has been completely modernized and is ADA-accessible with a bathroom and Murphy bed on the first floor, ramps into the house, and hallways wide enough to accommodate a wheelchair. The second floor is only accessible via stairs.
The proceeds will be used to benefit the Association's World Canals Conference 2021 Fund.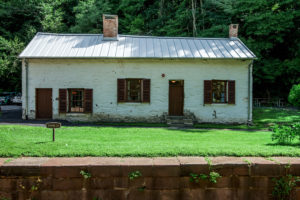 Back to news