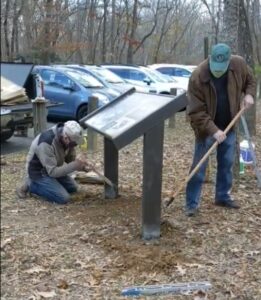 On November 17, C&O Canal Association volunteers installed three new wayside exhibits at Carderock Recreation Area. The exhibits commemorate the work of hundreds of young African-American men enrolled in the Civilian Conservation Corps (CCC). The men lived in a sprawling CCC camp at Carderock while helping to restore the first 22 miles of the then-abandoned C & O Canal. President Franklin D. Roosevelt established the CCC in 1933 to create jobs during the Great Depression while helping to preserve the nation's public lands.
As CCC enrollees, the young men lived a military lifestyle. During the day, they worked on the canal, repairing the towpath, clearing the prism, and repairing locks and lockhouses. In the evenings, they could take classes to learn new skills, play on a sports team, help edit the camp newspaper, or join a drama club. They earned $30 a month and had to send most of it home to their families.
See the wayside exhibits:
Installation of the wayside exhibits represents the culmination of a project that took three years and involved several partners. The C&O Canal Trust engaged a historian to conduct the original research on the CCC camp at Carderock as well as another one nearby. The C&O Canal Association hired a design firm to produce the exhibits and oversaw the project; its VIP program installed the exhibits. Heritage Montgomery provided a grant to support the Association's efforts. All three organizations worked with the National Park Service interpretive staff to craft the information displayed on the exhibits.