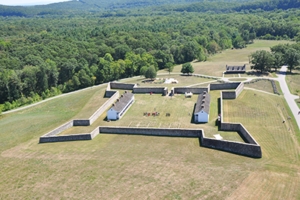 We will use an informal picnic April 24 at Fort Frederick State Park to celebrate the 67th anniversary of Justice William O. Douglas' 1954 hike to publicize the C&O Canal.
Despite recent improvements in the COVID situation, it seems premature to follow our usual practice of chartering a bus for hikers and getting together for an evening banquet.
Instead we will gather in Fort Frederick's picnic area. We will eat lunch at 1 p.m. Bring your lawn chair. The area has picnic tables, but we want to distance appropriately. We won't be wearing our masks during lunch.
You can order a bag lunch from Desert Rose Café below. Cost is $9. Place your order by April 20. We will deliver the bag lunches about 1 p.m. April 24. Of course, you are welcome to bring your own lunch.

No formal hike is planned, but options are available. The nearby Big Pool section of the towpath is scenic. The fort will be open for self-guided touring.
To reach the picnic area, follow the signs directing you to the fort, not the visitor center. Once you drive past the fort, turn left and follow the narrow road to the picnic. The park has a day use fee of $3. You can view a map of the park.