Park Service mules pull the excursion boats located at Great Falls Historic Tavern and in Georgetown. Mules possess the best qualities of their horse mother and donkey father.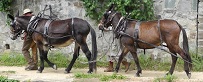 In 1994, the association donated $1,000 to help the park service buy Lil, a dark red bay mare, who stands 14.3 hands tall. She was born on July 4, 1990 and raised at Lake Anna, VA. She is named after Lillian Langdon, the last baby born on a C&O Canal boat (Canal boat #79) who in turn was named by Captain Crampton, her father, after his favorite mule. Lil retired from federal service in April 2018.
In 2010 at a cost to the association of $975, Eva, a brown four year old bay mare mule who stands 15.3 hands tall and is one of the larger mules, was a joint purchase by the C&O Canal Association and the Friends of Historic Great Falls Tavern.
Some newsletter entries about the mules:
(Updated May 2018.)