Newspaper Reports
Contemporary accounts concerning the C&O Canal
Canal Trade:
These annual compilations offer a day-by-day list of canal-related news items from newspapers across the region. Items include canal boat arrivals and departures, accidents, arrests, and conditions along the canal.
These Canal Trade compilations originally started with Cumberland newspapers, such as The Alleganian, but have since broadened their reach to include journals from Washington, D.C., Alexandria, Hagerstown, Baltimore and other locales. The compilations are available in PDF format.
Please feel free to contact William Bauman, wdbauman1086@gmail.com, with any questions about the documents. (Many of the documents contain William's old email address at visuallink.com, which no longer works.)
You can use the search feature of the Adobe software to look for the name of an ancestor or trace the activity of a particular boat through the year.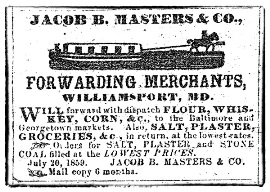 Alexandria:
Alexandria Newspaper Reports 1848-51 – This document compiles newspaper articles about the C&O Canal from the Alexandria Gazette between January 1, 1848 and May 30, 1851. By 1848 the Alexandria Aqueduct had been built and there was some discussion about development of the Alexandria waterfront, north and south of the mouth of the Alexandria Canal. The Canal Commerce listing show the arriving boats with their cargo and point of origin.
Leesburg:
Leesburg Newspaper Reports – This document features C&O Canal references from the pages of the The Washingtonian, a weekly newspaper published in Leesburg, VA, between 1836 and 1871. Historic downtown Leesburg is only a few miles from White's Ferry and Edwards Ferry. The Washingtonian gives us a glimpse into the rise and fall of canal-related business, as seen through advertising. Once the railroad arrived in Leesburg in 1860, the town's relationship with the the canal waned.
Shepherdstown:
Shepherdstown Newspaper Reports – The Register was a weekly newspaper. A search through the microfilm at the West Virginia University library has yielded C&O Canal references between 1849 and 1899. The length of the document, 130 pages, testifies to the importance of the canal to Shepherdstown.
Sharpsburg:
Sharpsburg Newspaper Reports – A compilation of articles about the C&O Canal from the Sharpsburg Enterprise, which was published weekly from November 22, 1878 through October 20, 1882.
Washington:
Daily National Republican 1863 – This Washington D.C. newpaper provides most of these wartime articles. The stories in late June and early July reflect the interruption in traffic caused by the Gettysburg campaign. Other newspapers are included.
Daily National Republican 1870-72 – This document compiles canal-related articles from this Washington, D.C. newspaper between January 1, 1870 and December 31, 1872. In addtion to articles about the C&O Canal, you can find items about the Washington City Canal and the businesses along the Georgetown waterfront.
Williamsport:
Williamsport Newspaper Reports – A compilation of articles from two weekly newspapers, the Williamsport Leader and the Williamsport Transcript, between October 4, 1884 through June 6, 1894.