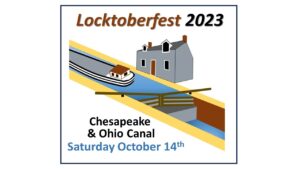 Saturday October 14 will be the first "Locktoberfest" along the eastern terminus of the C&O Canal. Like other popular annual Locktoberfests in New York and Ohio, this event will combine fun, fitness, and fellowship with Bavarian food and drink.
Two guided group walks and a bike ride are scheduled at Fletcher's Cove Boathouse, located at 4940 Canal Road Northwest in Washington, D.C. Historic highlights for all three activities include the scenic towpath, watching a canal boat being raised in an operational lift lock, Alexandria Aqueduct ruins and site of the world's largest incline plane.
Walkers will depart at 11:30 a.m. on a 6-mile or 10-mile route, with an optional lunch in Georgetown. Participants on the longer hike and the bike ride will tour a furnished lockhouse where they can enjoy refreshments and explore an additional lock. Cyclists joining the 15-mile ride, which starts at 12:45 p.m., will also visit the Lockkeeper's House in D.C. on the former Washington City Canal.
For more information, visit https://www.canaltrust.org/locktoberfest/ or email Locktoberfest2023@gmail.com.