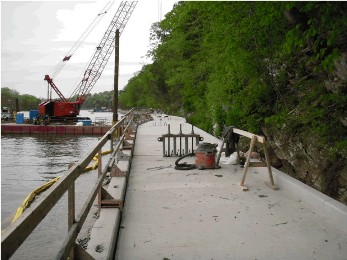 Water impounded behind a dam is called slackwater because the current is slight. The slackwater allowed the river upstream of the dam to be used for navigation versus digging a canal prism. On the C&O Canal, this section of the canal is located below Williamsport, MD where the canal boats locked out into the river but the mules continued to pull the boats while remaining on the towpath. In 1972, this section was severely damaged by the flood following Hurricane Agnes. The flood of 1996 made the 2.7 miles of the towpath impassable. The towpath was closed, and users were required to take a five-mile detour on narrow county roads.
Starting in 2005, the reopening of this portion of the towpath became a special project of the C&O Canal Association. Members advocated with the general public and public officials to obtain funds to restore this portion of the towpath. In 2010, the Big Slackwater restoration was deemed "shovel ready" and funds from the 2009 American Recovery and Reinvestment Act were made available for the project. This portion of the towpath reopened on October 13, 2012.
In order to meet the "shovel ready" requirements of the American Recovery and Reinvestment Act, the Association donated on:
August 5, 2007, $15,000 to support a new engineering study.
March 6, 2009, $25,000 to support the Environmental Assessment Study
March 30, 2009, $40,000 to further support the Environmental Assessment Study.
The Association's donation of $80,000 included $15,000 of the original $100,000 Widewater Challenge Grant issued by John and Carol Kimbrough through their Foundation of the Carolinas. When the park service's budget included Widewater rehabilitation funds, the Kimbroughs, members of the association, permitted us to apply the grant to other association projects The Association's donation also included $5,000 from the Friends of Historic Great Falls Tavern.The association's Big Slackwater Committee members were: Chairman Tom Perry, Members Ken and Pat Heck, Charlotte Loveless, James McCleaf, Mayor of Williamsport, Carl Pederson, and John Ziegler.
(Updated September 2018.)