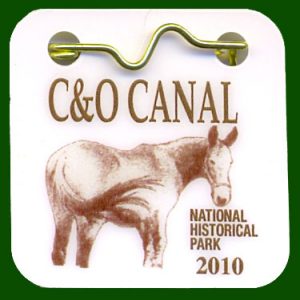 The idea of towpath pins originated with our sister organization, the Cuyahoga Valley Association (CVA). This volunteer organization, like ours, is a friend and partner of a national park, namely, the Cuyahoga Valley National Recreation Area. The towpath pin was a way to invite friends and users of the towpath to support the C&O Canal National Historical Park and its ongoing program of canal restoration projects. The towpath pin depicted a familiar canal feature or scene and was designed to be pinned to jacket, shirt or hat.
The pin was awarded as a token of appreciation to anyone who contributed five dollars (or more) to the C&O Canal NHP. All contributions went directly and fully to canal restoration work. Each towpath pin was pinned to a card which thanked the contributor and cordially invited him or her to consider joining the C&O Canal Association. The towpath pins were available at NPS Visitor Centers along the canal, from the Association, and at various canal events and Association activities.
Each year's scene was created by Tom Kozar, Artist in Residence at the C&O Canal NHP, and given to the C&O Canal Association pro bono.  The Association paid for the pins and membership cards and donated all to the park.  Donations collected at Association events also were forward to the C&O Canal NHP.  No administrative costs were deducted.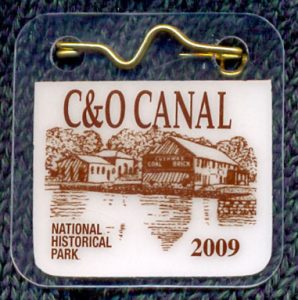 Towpath pins were issued annually from 2002 thru 2010.  The various scenes were:
2002 – Canal Boat
2003 – Great Falls Tavern & Dog Pin – 2 pins
2004 – 50th Anniversary of the Douglas Hike
2005 – Monocacy Aqueduct
2006 – Paw Paw Tunnel
2007 – Catoctin Aqueduct
2008 – Charles F. Mercer – passenger boat
2009 – Cushwa Basin
2010 – Mule
Association financial records were not available for all the years, but costs associated with this project amount to $7,245.29.
(Updated October 2018.)