The Cumberland built in 1976 is a full-sized replica of a typical Chesapeake and Ohio cargo-carrying canal boat. It was originally built by Cumberland canal enthusiasts led by John Millar and the boat was drydocked for 23 years at Lock 75. The C&O Canal Association's Board of Directors contributed $500 toward the Cumberland Boat Project in 1973.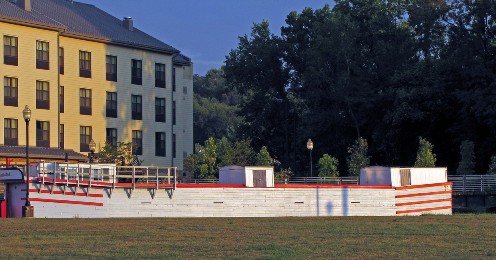 The Cumberland was relocated in January 2000 to Canal Place at the Cumberland Visitor Center as part of Maryland's Millennium Celebration. While the boat is the property of the Canal Place Preservation and Development Authority, a state agency, it is a vital part of the National Park Service's education and interpretation programs at Cumberland. Besides visitations by the general public, it has annual visitations by school children from Maryland's Allegany and Garrett counties Pennsylvania's Bedford and Somerset counties and West Virginia's Mineral and Morgan counties.
However due to gradual withdrawal of state funding, there were insufficient funds to properly repair and maintain the boat. Due to its comparably recent age, it did not qualify for a state historical preservation grant. In March 2013, the C&O Canal Association offered to provide funds for repair and maintenance to ensure that the boat remained safe and usable. Initially, the C&O Canal Association donated $15,000.00 which included $1,236.95 donated by the Cumberland group. Ranger Ben Helwig of the C&O Canal NHP obtained a matching grant from the Challenge Cost Share Program of the Outdoor Foundation.
In 2012, association funds mounting to $326.73 were provided to repair the boat's access ramp.
In 2015, repair work was completed in two phases at a total cost of $28,710.00 to resolve safety concerns raised by Ranger John G. Adams, CSP, Safety Officer of the C&O Canal NHP.
In 2015 – association reimbursed association member for paint purchase – $187.53.
In 2016, areas of the boat not covered by previous repair contracts were sanded and painted at a cost of $1,385.00.
Donations for future repair and maintenance can be sent to the association's Cumberland Replica Boat Fund.Association member involved: William Bauman
(Updated August 2019.)